European Heat Pump Summit Newsroom
ACREX India 2018 with great success
Closing Report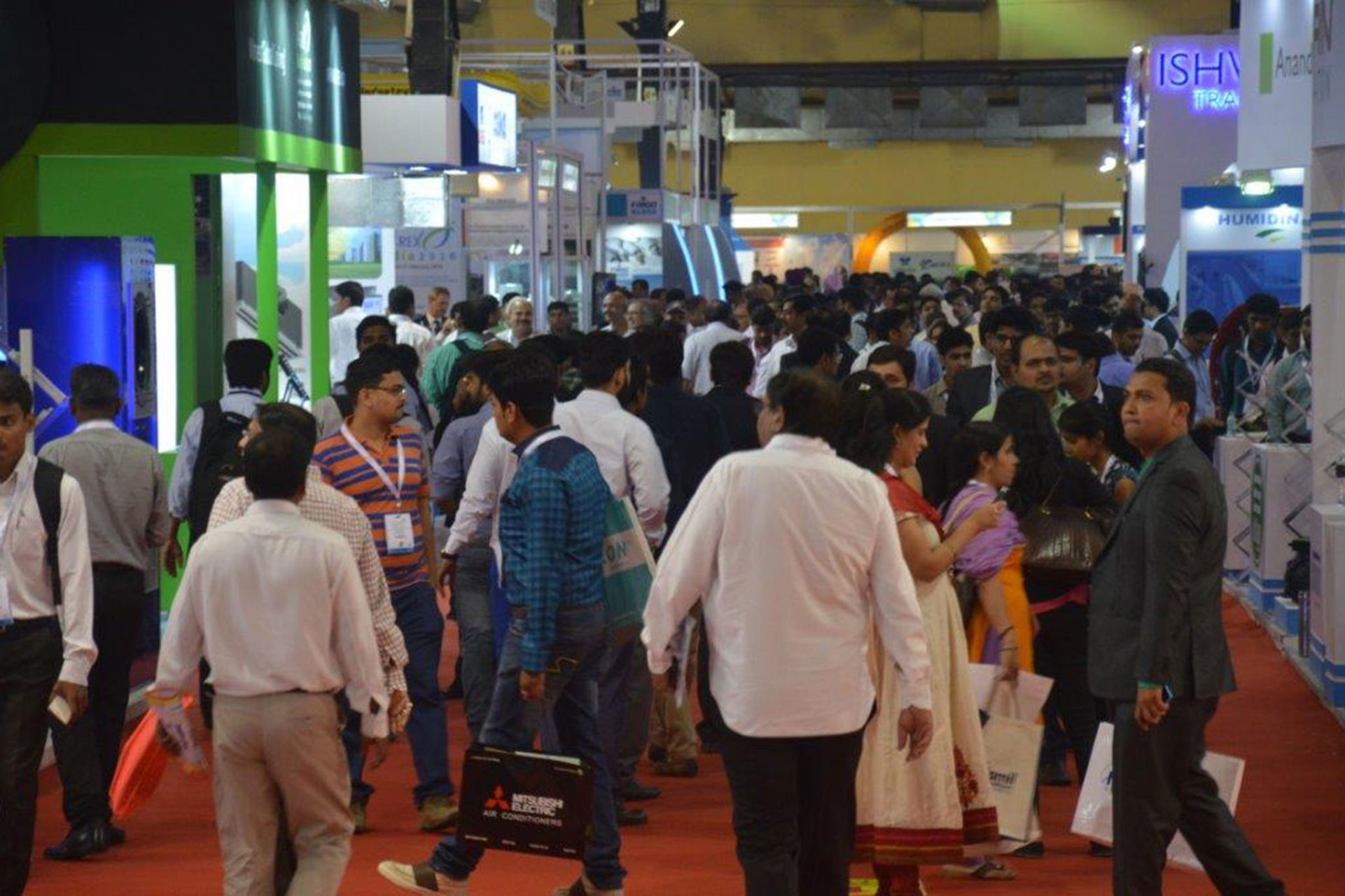 ACREX India 2018 closed successfully at the Bangalore International Exhibition Centre in Bangalore as more than 430 exhibitors showcased their latest products on 12,004 sq. m of net display space. ACREX India is the leading event in South Asia for Refrigeration & Cold Chain, Air Conditioning, Ventilation, and Intelligent Buildings. Held between 22nd – 24th February, 2018 the three-day exhibition provided participants with insights into the latest trends and innovations in HVAC&R, diverse building engineering services, building automation and the ever growing cold chain industry.
ACREX India today has established itself as the most important event of the entire Indian construction industry. The theme of the event 'Rising India: Enterprising & Cool' was aptly carried forward to encourage domestic manufacturing for production and supply of equipment. In line with the ACREX India vision of becoming the largest network and the most dynamic platform for the HVAC&R and the building construction industry, ISHRAE advocated the importance of natural resources, recycling and reusing materials alongside employing energy efficient equipment is the key to organic sustenance. Laying importance on efficient use of resources such as energy, water among other, will aid in protecting occupant's health and improving quality of life.
The dedicated pavilion on Refrigeration & Cold Chain demonstrated state-of-the-art technology in the cold chain industry. UN Environment was pleased to co-organize the Ozone 2 Climate Technology Roadshow and Industry Dialogue at ACREX India 2018.
With participation of major global companies from 20 countries and country pavilions from China and Europe, ACREX India offered a 360-degree view on worldwide trends in building design. These pavilions provided a great opportunity for domestic manufacturers and SME's to ideate, network and get an understanding of current worldwide trends.
ISHRAE invited heads of more than 80 International associations – ASHRAE from USA, CAR from China, ISIB from Turkey, REHVA from France and IAQA from USA were among the participators. The encounter of worldwide experts provided the opportunity to learn and collaborate across borders.
A curtain raiser was held prior to the opening of ACREX India 2018. The event featured a panel discussion on the "Chiller v/s VRF Application or VRF vs. Chiller? Enemies or friend"
ACREX India 2018 was inaugurated on 22nd February by Dr. Harsh Vardhan, Union Minister of Science & Technology, Earth Sciences, Environment, Forest and Climate Change. While speaking at the inauguration, the minister aptly said, "ACREX India 2018 is a great trade show with professional visitors from around the globe. I am happy that companies exhibiting at ACREX India are developing technologies to protect the depleting ozone. We are focusing on green good deeds."
ISHRAE recognized key initiatives by the industry by presenting the ACREX Awards of Excellence 2018 powered by Daikin, to deserving individuals/organizations engaged in continuous R&D for the HVAC industry. The winners for the same were Danfoss Industries Pvt. Ltd. In Energy Saving category while runner up being Armstrong Fluid Technology. Danfoss Industries Pvt. Ltd. once again stood up as the winner in another category – Energy Saving in Refrigeration. Bitzer India Pvt. Ltd. winner in Green Product category. Smoke Solution (Denmark) winner for Indoor Air Quality & runner up was Testo India Pvt. Ltd. Belimo Actuators India Pvt. Ltd. winner in Innovation category and the runner up was Bitzer India Pvt. Ltd. Yet another special mention in this category was awarded to Sanhua India Private Limited.
Among the most exciting element once again was the Student Quiz Competition organized for the fourth year in row sponsored by Hitachi. The quiz was primarily designed to introduce engineering students to the HVAC – R industry.
RELIANCE CORPORATE IT PARK TC-22, NAVI MUMBAI was inducted in the ACREX Hall of Fame on the second day of the event i.e. 23rd February, 2018, a joint initiative by ISHRAE and Danfoss India to recognize energy efficient infrastructure.
Workshops, Technical Seminars and Interactive panel discussions were conducted on subjects of interest including Cold Chain and Refrigeration; Data Centres, Tall Buildings, Health Care Centres, Internet of Things and programs for Facility Managers, Building Sciences for the Owners, Developers, Architects etc.
These sessions were conducted by eminent and internationally acclaimed experts from the industry and provided a rare opportunity to the participants to learn, share expertise and hone their skills on the latest trends and topics related to HVAC & R industry.
The exhibition had the presence of Industry leaders including Samsung, LG Electronics, Kirloskar Chillers, Carrier UTC, Zamil Air Conditioners, Desiccant Rotors, Voltas, K Flex, AHRI, Eurovent Certita Certification, and the lead patronage of Blue Star, Hitachi, Daikin Airconditioning and Danfoss Industries.
The array of visitors included owners, architects, consultants, project managers, contractors, suppliers, manufacturers, facility managers, end users and Government officials. Prana, Fully Functional Home office Exhibit at BIEC was again a delight for both national and international visitors with more extended avenues.
ACREX India 2019 will take place in Mumbai at the Bombay Exhibition Centre, from the 28th February – 2 March 2019.
About ISHRAE
The Indian Society of Heating, Refrigerating and Air Conditioning Engineers (ISHRAE), founded in 1981 at New Delhi by a group of eminent HVAC&R professionals, today has more than 12,000 HVAC&R professionals as members and additionally as many as 7,500 Student-members. ISHRAE operates from 41 Chapters and sub Chapters spread all over the country with headqauters in Delhi. It is led by a team of elected officers, who are members of the society, working on a voluntary basis, and collectively called the Board of Governors.
About the NürnbergMesse Group
NürnbergMesse is one of the 15 largest exhibition companies in the world. The portfolio covers some 120 national and international exhibitions and congresses and approx. 40 sponsored pavilions at the Nuremberg location and worldwide. Every year, over 30,000 exhibitors (international share: 41%) and up to 1.4 million visitors (international share of trade visitors: 24%) participate in the own, partner and guest events of the NürnbergMesse Group, which is present with subsidiaries in China, North America, Brazil, Italy and India. The group also has a network of about 50 representatives operating in over 100 countries.
Contact for German Exhibitors
Mr Taner Gencel
NürnbergMesse GmbH
T +49 9 11 86 06 81 95
taner.gencel@nuernbergmesse.de
Contact for international Exhibitors
M. Kavita Sharma
NuernbergMesse India Pvt. Ltd.
T +91 11 47 16 88 27
Contact for Press and Media
Mr. Apurba Biswas    
NuernbergMesse India Pvt. Ltd.
T +91 (0) 22 6 216 53 16
For more information on the event, please feel free to log into www.acrex.in